San Luis Obispo Botanical Garden Extends its Immersive Light & Art Experience, Nature Nights, thru March 19, 2023
By popular demand, Nature Nights continues to light up the spirits and imagination of community members and visitors alike.
The San Luis Obispo Botanical Garden's, (SLOBG), Nature Nights, an immersive outdoor light and art exhibit, will continue to welcome guests into spring 2023. Throughout the eight-acre display of the 150-acre Garden, the immersive experience will feature large format light projections, illuminated sculptures and artistic garden lighting by Kody Cava. The exhibition features enthralling moving digital imagery captured by artist Bryn Forbes, projected upon the surrounding buildings and artifacts, creating an experience like no other. Michael Reddell's illuminated wire sculptures will add to the excitement by capturing theessence of humanity. Artistic lighting of the garden areas will be strategically crafted by celebrated artist Kody Cava.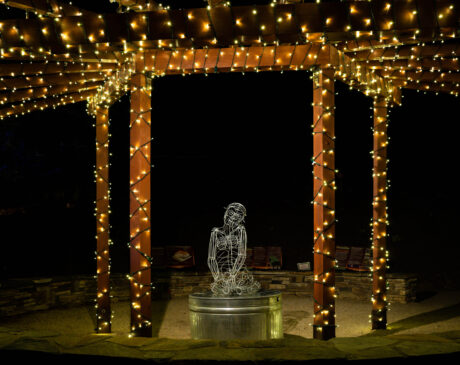 Regional wine and beer will be available for enjoyment nightly, in addition to hot beverages and snacks provided by Paradise Kitchen. Nature Nights opened to an enthusiastic audience, November 11, 2022. Due to popular demand, Nature Nights has been asked to remain open as an attraction for the next season by locals at-large and visitors to the community.
SLO Botanical Garden Executive Director, Chenda Lor, responds, "The garden is answering the request from the community to continue to offer family friendly evening programming during the winter months. We are able to offer Fridays thru Sunday evenings when most people are looking for an uplifting experience to enlighten their weekend with their friends and families, and we welcome them to the Nature Nights experience."
The SLO Botanical Garden emphasizes education, horticulture, research, art, resource conservation, environmental stewardship, and community engagement. Produced by SLOBG Director of Communication & Events, Tracy Strann, renowned for producing Bruce Munro: Field of Light at Sensorio in Paso Robles, CA, guarantees to light up the imagination. The highly creative and experienced team assure a one-of-a-kind experience not to be missed. The San Luis Obispo Botanical Garden is located midway between San Francisco and Los Angeles, at 3450 Dairy Creek Rd, San Luis Obispo, CA. Direct flights to the region, railway, and Hwys 101 & 1 make for easy access to the region and exhibit
For more information, visit www.slobg.org or call (805) 541-1400.
Tickets are available at My805Tix.com.
Friday thru Sunday, January 13 to March 19, 2023 | Times varying depending on seasonality
TICKETS: ADULTS: $24.75 + fees  | CHILDREN (12 & under): $14.75 + fees |  TODDLERS (2 & under): FREE
*Members receive $2.00 discount per ticket
---
About San Luis Obispo Botanical Garden
The San Luis Obispo Botanical Garden is a non-profit organization that showcases plants from Mediterranean climates throughout the world. Through its programs and facilities, the Garden fosters an appreciation and understanding of the relationship between people and nature and encourages a sense of stewardship for the natural environment. The Garden is located at: 3450 Dairy Creek Rd., within El Chorro Regional Park off Highway 1 between Morro Bay and San Luis Obispo. For tickets or to learn more, visit slobg.org.
(Press Release by Parker Sanpei Marketing)